We are focused on the development of new rrigation equipments.
Products Category
PRODUCTS CENTER

TEL:0086-531-76130108

E-Mail:18606348185@lwhyrt. com

E-Mail:13561700816@lwhyrt.com
ABOUT US
We have many kinds of auto machinery such as 20sets of injection molding machines, 10sets of extrusion machines, 10sets of auto assembling machines, 4sets of auto packing machines, and all kinds of machines for quality measure and inspection. We have more than 50 employees, and 10 R&D personnels among it.
View more +

Buried Scattering Nozzle
---
ltem NO.:RL1004
Payment:D/P, WEST-U, PAYPAL, CREDIT CARD ON LINE
Product Origin: Jinan, China
Color:Black(Customizable colors)
Shipping Port: Jinan
Lead Time: 20 Days
Garden Sprinkler&WaterTake Valves
---
contact now
DESCRIPTION
Buried Scattering Nozzle
1. Built-in filter screen, easy to disassemble and replace the nozzle and filter screen;
2. The entire inner core can be rotated from the top of the nozzle, which is convenient for cleaning and maintenance;
3. It integrates full circle and adjustable angle spraying All in one, the top angle adjustment range is 40~360 degrees, easy to operate ;
4. Longer range and smaller flow;
5. The nozzle can be easily taken out and maintained.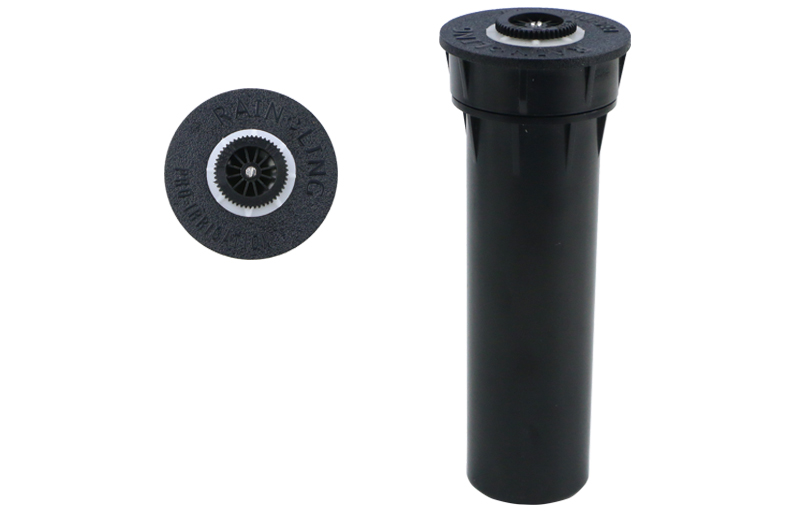 FEATURES
Concealment
The buried sprinkler is installed below the surface. and when there is water pressure supply, it springs up above the surface for irrigation. Good concealment, not easy to be destroyed, no impact on the landscape.
Evenness
The layout of buried sprinkler head is designed by the design institute before construction, and the intensity of sprinkler irrigation on the plane can be basically the same and the uniformity is good.
Beautiful
Different types of buried sprinkler water type is different, there are scattered, shot line, rain curtain type The efect of sprinkler is beautiful, and it has become a new landscape line in the urban green space in the new era.
Water saving
Garden buried sprinkler generally has a small flow and a large coverage area. With automatic control.on-demand irrigation can be achieved and water resources can be saved.
Labor saving
Compared with traditional artificial irrigation. the use of buried sprinkler can greatly expand the area of artificial irrigation management per unit. With automatic control system matching use, can even achieve zero manual management.automatic irrigation.
SERIES PRODUCTS
RL1000散射喷头

Butterfly Rotating Sprinkler

型号

Item No.

内丝口径(mm)

Diameter

流量(m³/h)

Discharge

喷洒半径(m)

Spraying Radius

工作压力(Bar)

Work Pressure

RL1000

F1/2''

0.3-1.2

5.5-8.0

1.8-4
地埋散射喷头

Butterfly Scattering Nozzle

型号

Item No.

流量(m³/h)

Discharge

射程(m)

Range

工作压力(Bar)

Work Pressure

RL1004

0.1-1.3

2.5-5.0

1.8-4
地埋齿轮喷头

Buried Dear Nozzle

型号

Item No.

流量(m³/h)

Discharge

射程(m)

Range

喷嘴强度(mm/hr)

Nozzle Strenth

工作压力(Bar)

Work Pressure

RL5100

0.25-2.5

7.5-14

10

1.8-4
地埋射线喷头

Buried Ray Nozzle

型号

Item No.

流量(m³/h)

Discharge

射程(m)

Range

工作压力(Bar)

Work Pressure

RL200

0.3-1.2

5.5-9.0

1.8-4
PLANT AREA
| | | | | |
| --- | --- | --- | --- | --- |
| | | | | |
| 30 thousand square meters | | Professional Team | | Thousands Of Sets Of Molds |
| | | | | |
| | | | | |
| Multiple Shipping Methods | | The Annual Output Yalue Exceeds2.5Billion Pieces | | Certifications |
CERTIFICATE

●Shandong HYRT water-saving irrigation Co.,LTD.is one of the professional irrigation system manufacturer and servicer in china.
●Our products include micro-sprinkler system,drip irrigation system,filter system,fertilizer system,garden watering kit,tubing and their fittings ect which are all manufactured bythe advanced technology and good quality materials,widely apply in agricultural team of professional staffs in design,technology,sales,customer services amd quality control.
●Our goal:to provide our customer with the best services by not only the strong technology support but also integrity and friendship.
APPLICABLE SCENARIOS
| | | |
| --- | --- | --- |
| | | |
| Orchard planting | | Vegetable planting |
| | | |
| | | |
| Farmland irrigation | | Greenhouse |