We are focused on the development of new rrigation equipments.
Products Category
PRODUCTS CENTER

TEL:0086-531-76130108

E-Mail:18606348185@lwhyrt. com

E-Mail:13561700816@lwhyrt.com
ABOUT US
We have many kinds of auto machinery such as 20sets of injection molding machines, 10sets of extrusion machines, 10sets of auto assembling machines, 4sets of auto packing machines, and all kinds of machines for quality measure and inspection. We have more than 50 employees, and 10 R&D personnels among it.
View more +

lock Tape Coupler with Valve
---
ltem NO.:HYRTV16I
Payment:D/P, WEST-U, PAYPAL, CREDIT CARD ON LINE
Product Origin: Jinan, China
Color:Green(Customizable colors)
Shipping Port: Jinan
Lead Time: 20 Days
---
contact now
DESCRIPTION
It's a control valve which can regulates or shuts off water flow through the drip tape. Reusable Fitting – Just unscrew Quick & Easy Installation & Removal .High Quality Plastic with Maximum UV Protection Works with Drip Tape Systems for row crops & vegetable gardens Advantage of Mini Irrigation Valve:
1. High Quality Plastic with Maximum UV Protection.
2. No water leaking
3. Made of strong plastic material. Durable and longer lift time.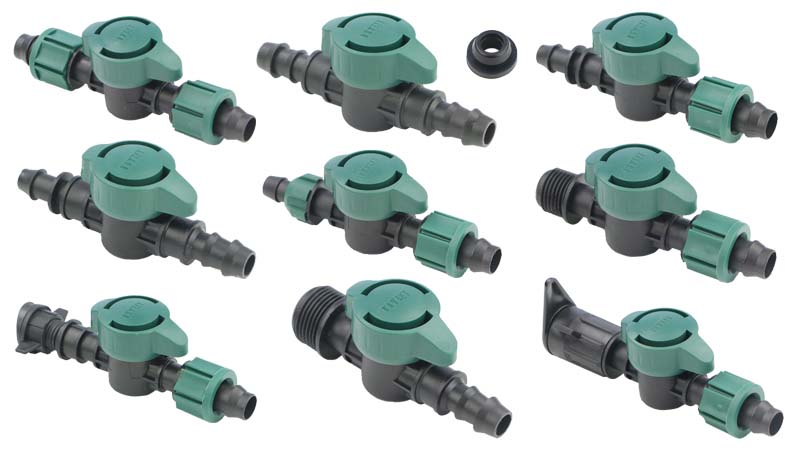 FEATURES
Good raw materials
Material adopts PP and advanced production technology,durable.
Material
The drip irrigation switch valve adopts a new top spiral shape, which has good sealing effect, good plastic.
Style
Classic style, simple structure
Big mould production
Directly supplied by the factory, high production capacity, accept customized packaging.
Life Long
Good pressure resistance, environmental protection, corrosion resistance and wear resistance, and can be used for a long time.
SERIES PRODUCTS
双锁母直通阀

Lock Tape Coupler with Vale

Item No.

Size

HYRTV16I
16
HYRTV20I
20

单锁母旁通阀

Lock Offtake Vale for tape

Item No.

Size

HYRTV16E1
16
HYRTV20E1
20

定位反锁母旁通阀

Offtake Vale for Tape

Item No.

Size

HYRTV16F1
16
HYRTV20F1
20

软带锁母旁通阀(分体)

Tape Vale for Layflat Hose

Item No.

Size

HYRTV16J1
16

软带锁母旁通阀(鸭嘴)

Tape Vale for Layflat Hose

Item No.

Size

HYRTV16J2
16
HYRTV20J2
20

承插直通阀

Maxi Valve

Item No.

Size

HYRTV16A
16
HYRTV20A
20
HYRTV25A
25

承插旁通阀

Barb Offtake Valve

Item No.

Size

HYRTV16D
16
HYRTV20D
20
HYRTV25D
25

锁母阳直阀

Lock-Male Thread Valve for Tape

Item No.

Size

HYRTV16G
16*1/2''
HYRTV16H
16*3/4''
HYRTV20G
20*1/2''
HYRTV20H
20*3/4''

承插阳直阀

Barb Male Thread Valve

Item No.

Size

HYRTV16B
16*1/2''
HYRTV16C
16*3/4''
HYRTV20B
20*1/2''
HYRTV20C
20*3/4''
HYRTV25B
25*3/4''
PLANT AREA
| | | | | |
| --- | --- | --- | --- | --- |
| | | | | |
| 30 thousand square meters | | Professional Team | | Thousands Of Sets Of Molds |
| | | | | |
| | | | | |
| Multiple Shipping Methods | | The Annual Output Yalue Exceeds 2.5 Billion Pieces | | Certifications |
CERTIFICATE

●Shandong HYRT water-saving irrigation Co.,LTD.is one of the professional irrigation system manufacturer and servicer in china.
●Our products include micro-sprinkler system,drip irrigation system,filter system,fertilizer system,garden watering kit,tubing and their fittings ect which are all manufactured by the advanced technology and good quality materials,widely apply in agricultural team of professional staffs in design,technology,sales,customer services and quality control.
●Our goal:to provide our customer with the best services by not only the strong technology support but also integrity and friendship.
APPLICABLE SCENARIOS
| | | |
| --- | --- | --- |
| | | |
| Orchard planting | | Vegetable planting |
| | | |
| | | |
| Farmland irrigation | | Greenhouse |